With only two weeks to go I've decided to ramp up the pace for the last couple of challenges.
For this, I went in search of someone stupid enough to cycle from Brixton to Brighton with me and quickly accepted a yes from my good friend and fellow Twatt pioneer… Sergio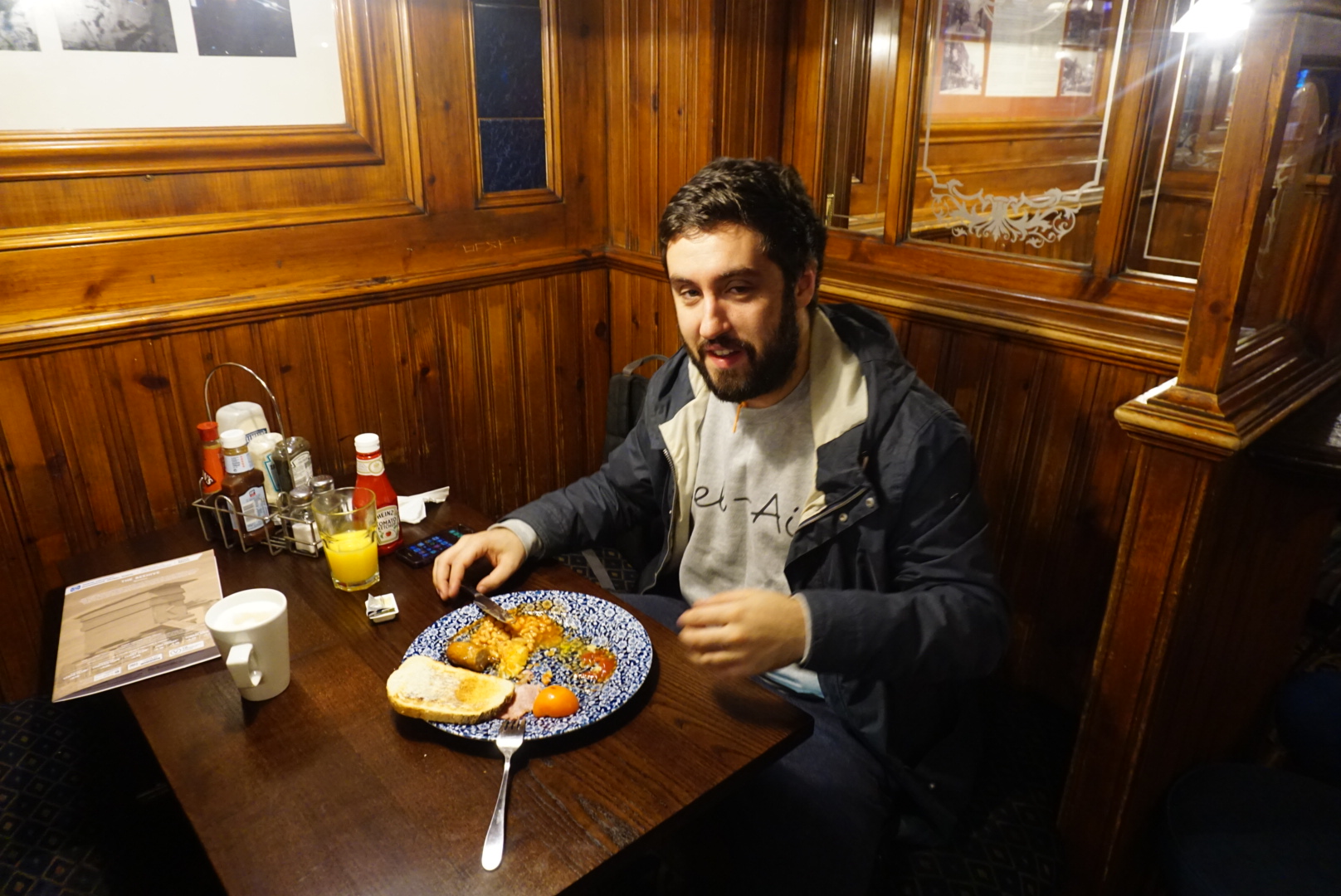 We postponed this challenge last weekend due to severe hangover conditions on both our parts, but determined not to fail and fuelled by a hearty Wetherspoons breakfast we set off from Brixton at 09.31 last Saturday.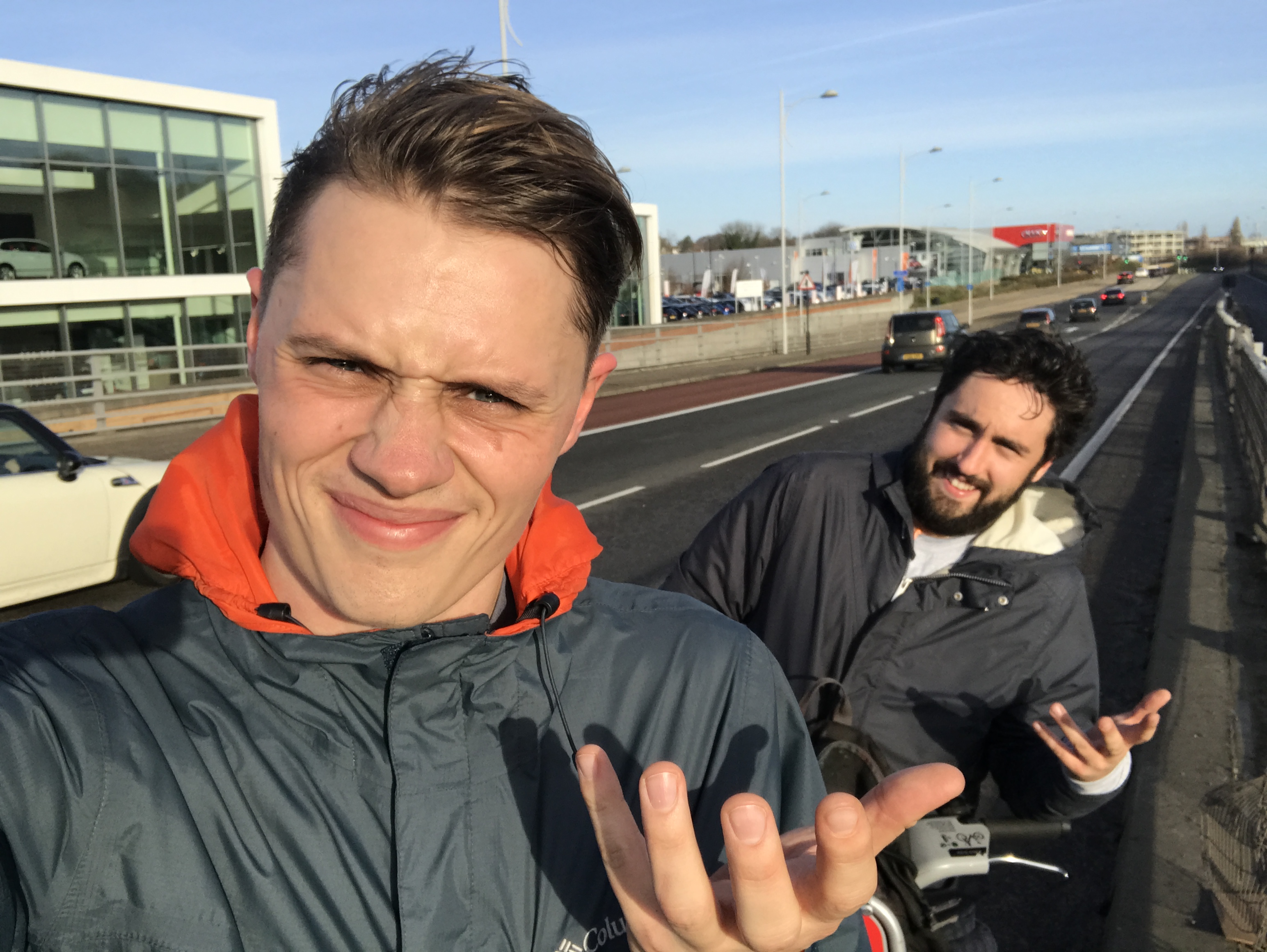 But let me explain…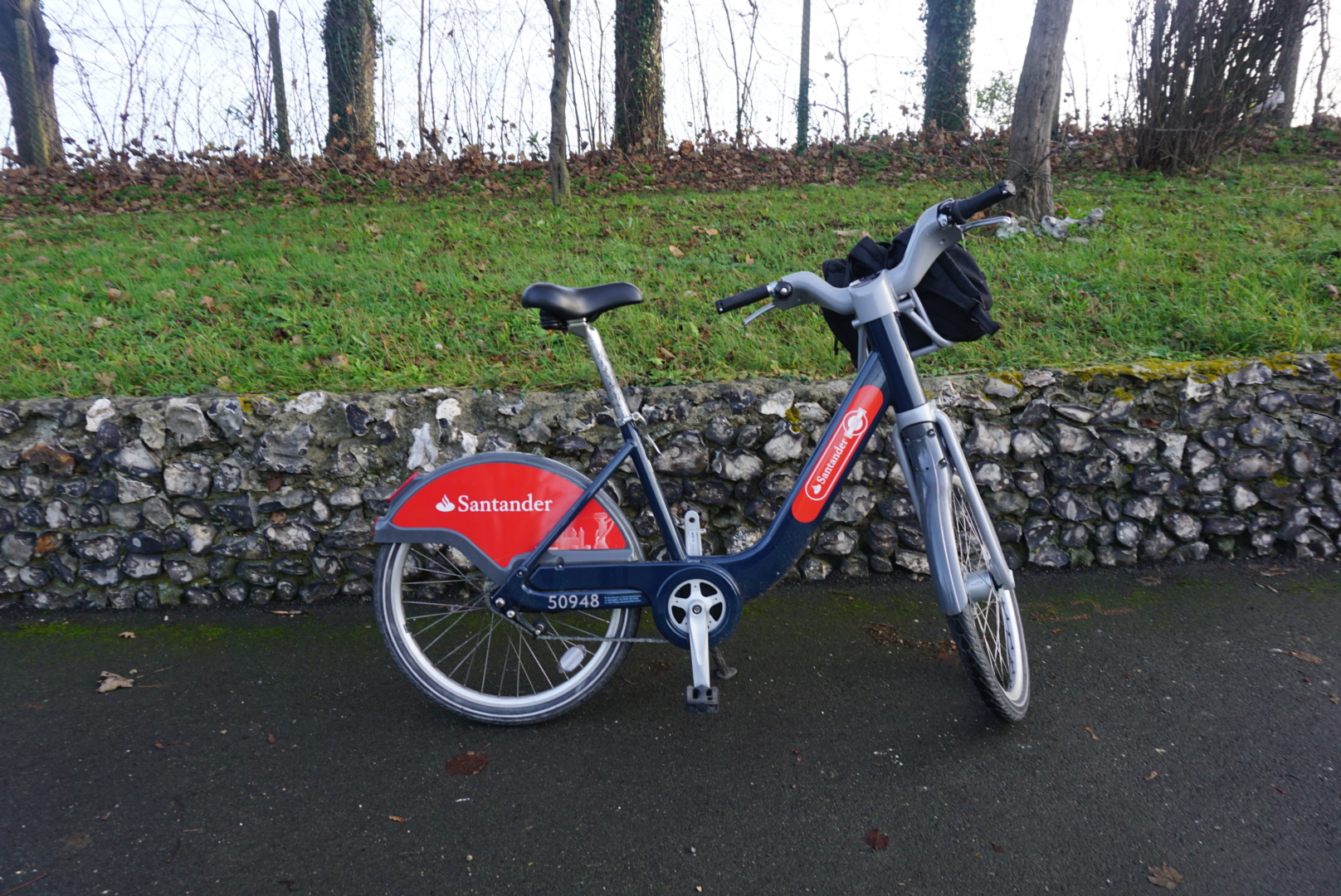 The Boris bike is a magical creature – aptly named after the former mayor of London 'Boris Johnson'. I say aptly because the bikes are heavy, chunky, provide the absolute bear minimum service and they are expensive to the public.
At £2 per half hour and with 55 miles ahead of us this was ultimately a race against time, with neither Sergio or I having any experience of long distance bike-riding we trundled off up Brixton Hill and into the uncertainty of the day.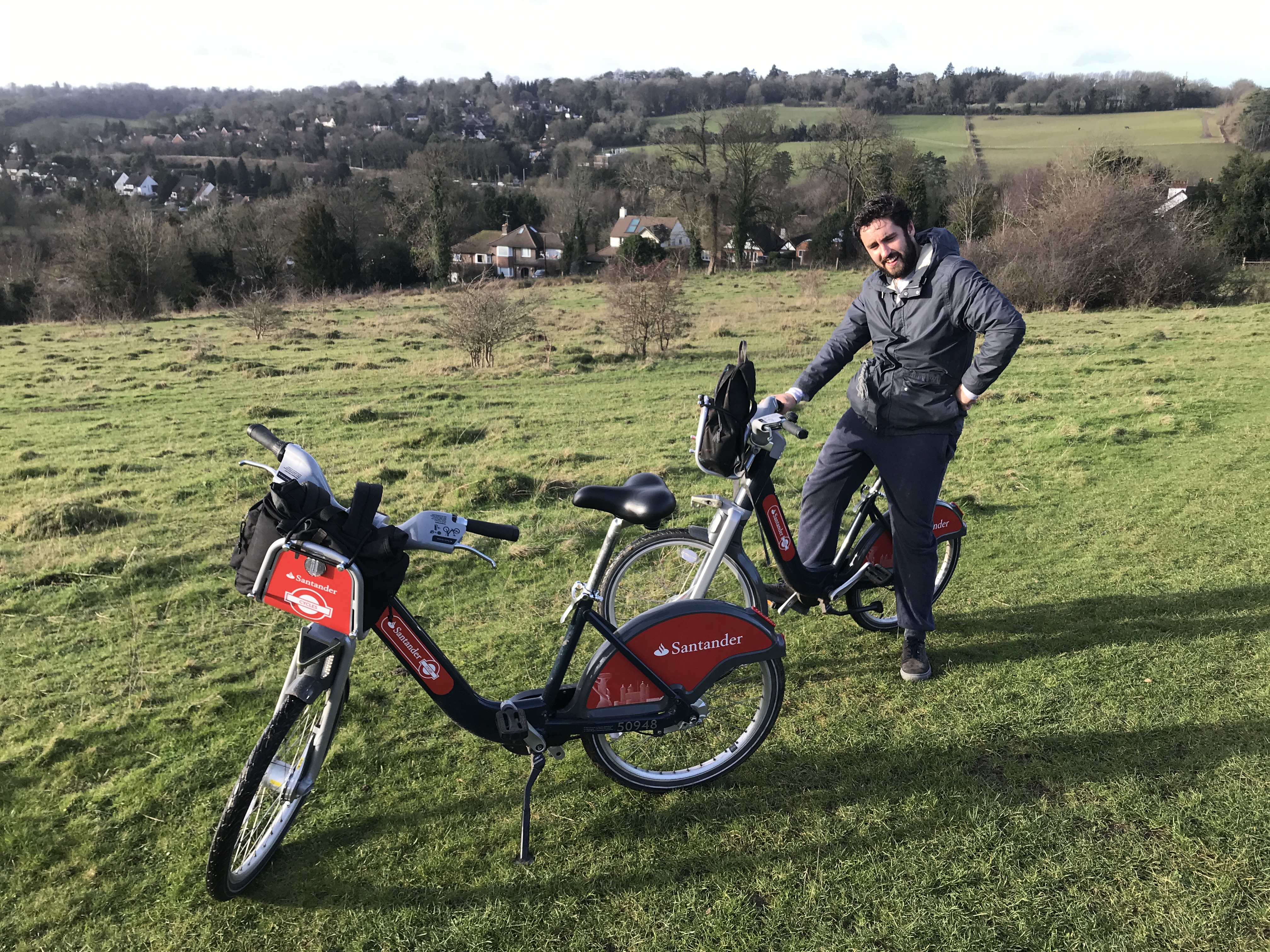 2 hours later we cleared the M25 – which is one of the best bits of downhill of the whole ride – you fly out over the crossing with the cars tearing by below and then suddenly arrive in the countryside (kind of).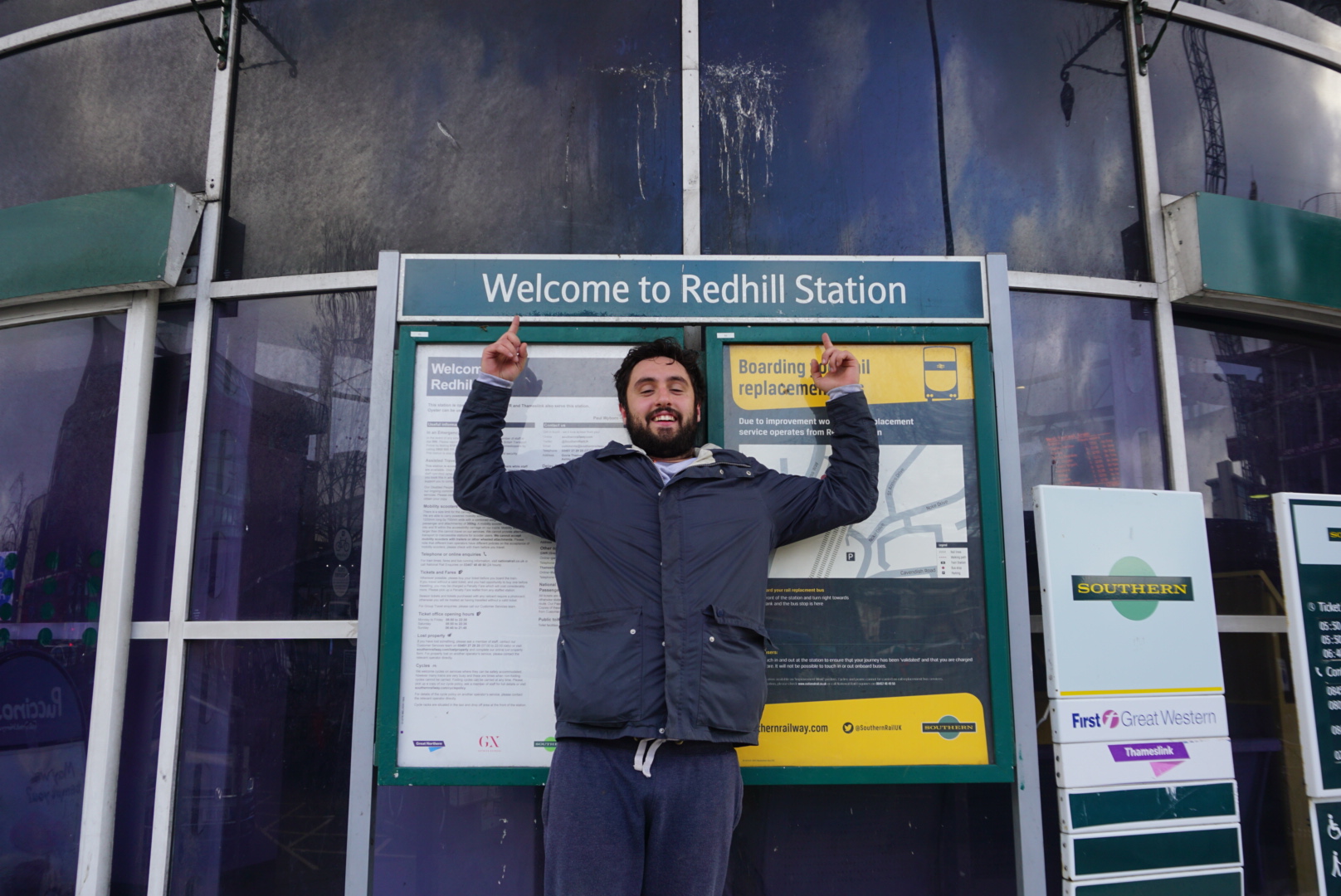 A couple of miles later we passed through Redhill where we stopped so that Sergio could send a picture to Magnus (also a fellow Twatt pioneer) in tribute to a time earlier in the year when, after a couple of drinks on a Wednesday night, Magnus woke up in Redhill Station at 1am with no trains running until morning.
Moving swiftly(ish) on towards Gatwick, we had just cleared a big roundabout when a police van pulled ahead of us and slowed – out stepped a giant bearded police man who blocked our path and demanded 'what on earth are you two doing?'.
I tried to explain the challenge which was received with laughter and dubious sideways glances, it wasn't until I showed them my journal that they believed we hadn't stolen the bikes and realised that we were actually just a pair of idiots out for a very expensive bike ride… In the middle of winter.
They were good sports about it though and agreed to a photo.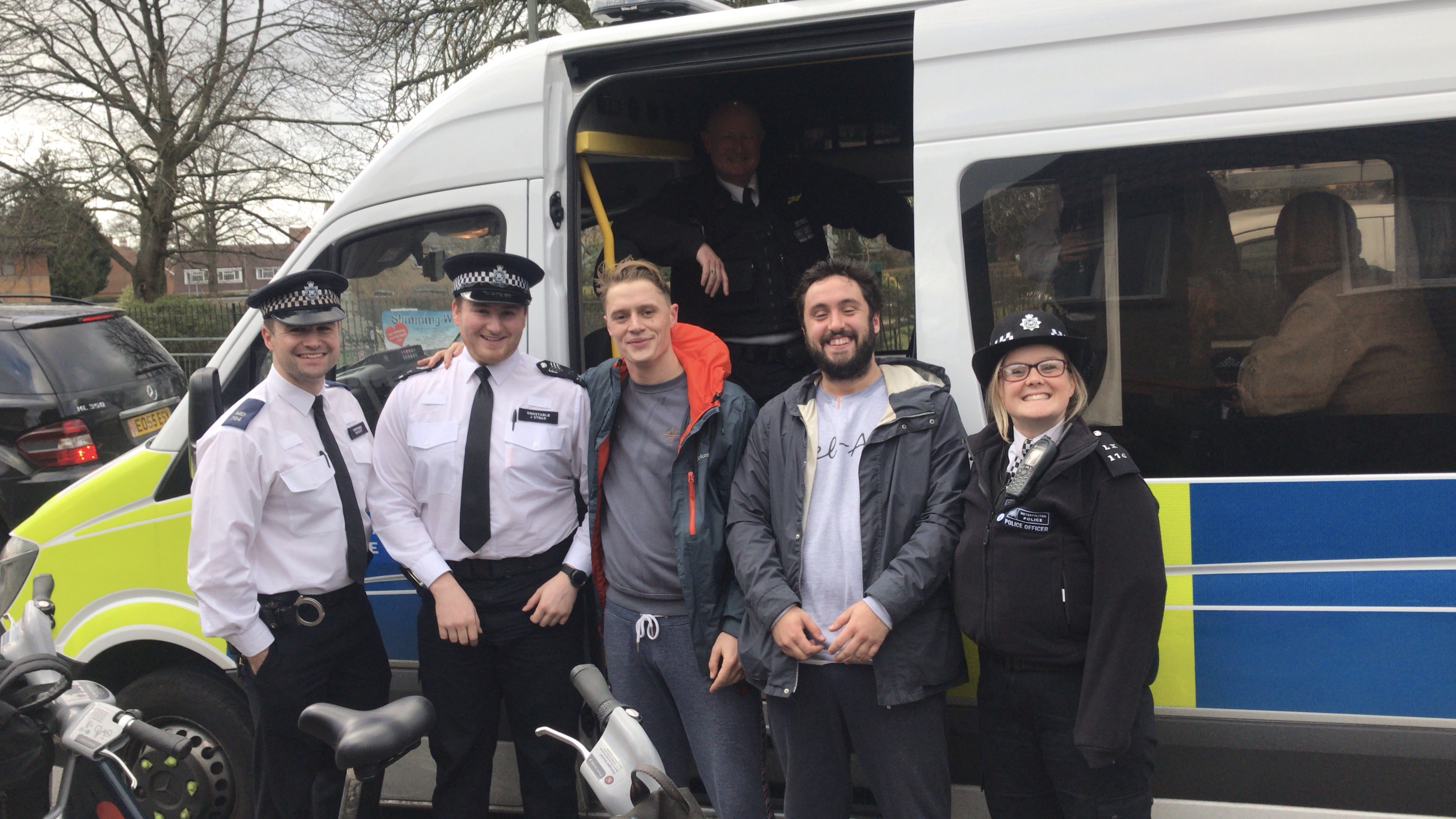 After Gatwick we stopped at a burger van to replenish – Sergio had started cramping up so I looked at the map and told him that he could split off at Crawley and jump on a train home if he didn't want to carry on… 'Fuck off Varley' came his response and we pressed on with the last 22 miles.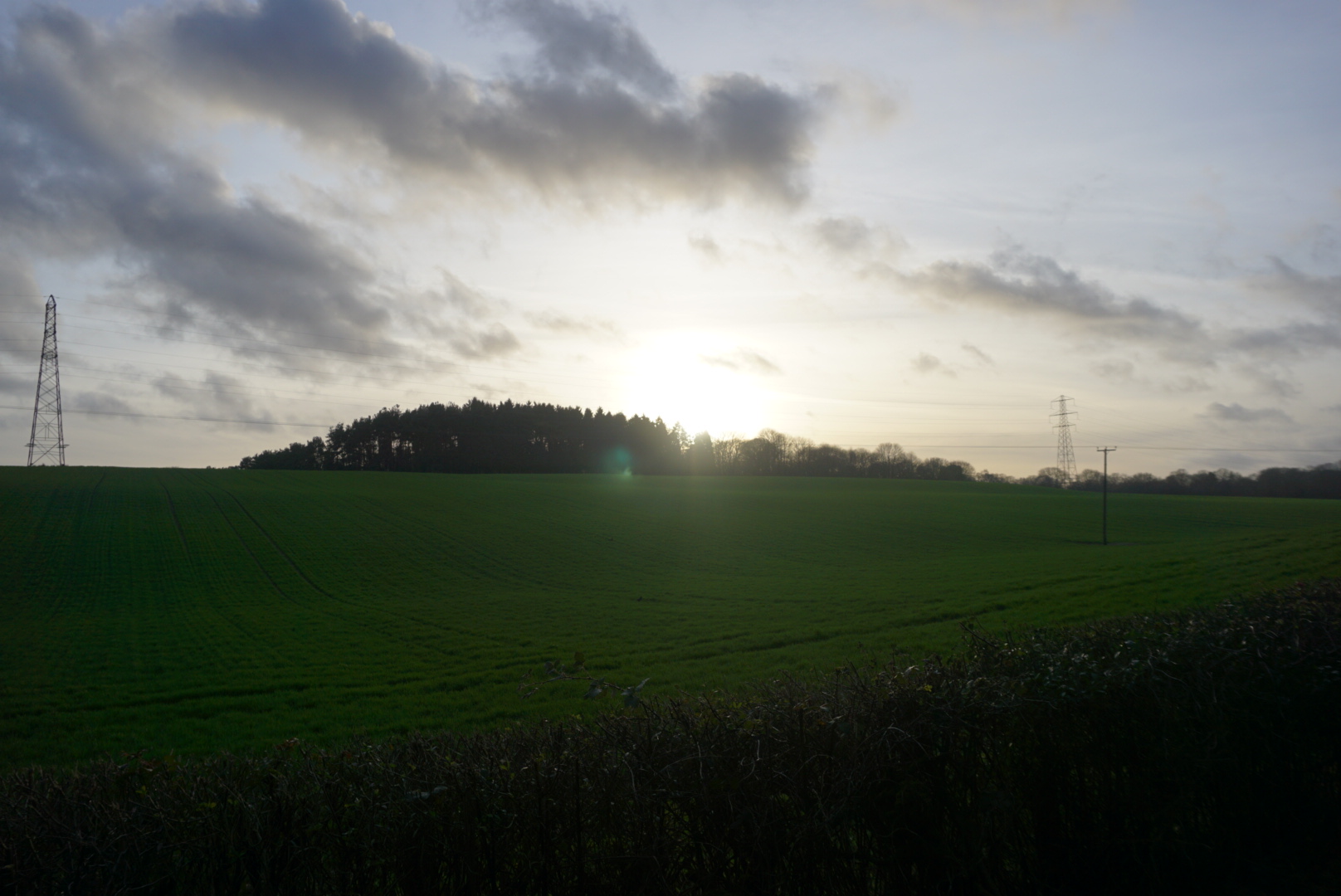 The sun started to set as we pedalled into the last 10 miles so we layered up and stopped for a quick bite of chocolate and some water.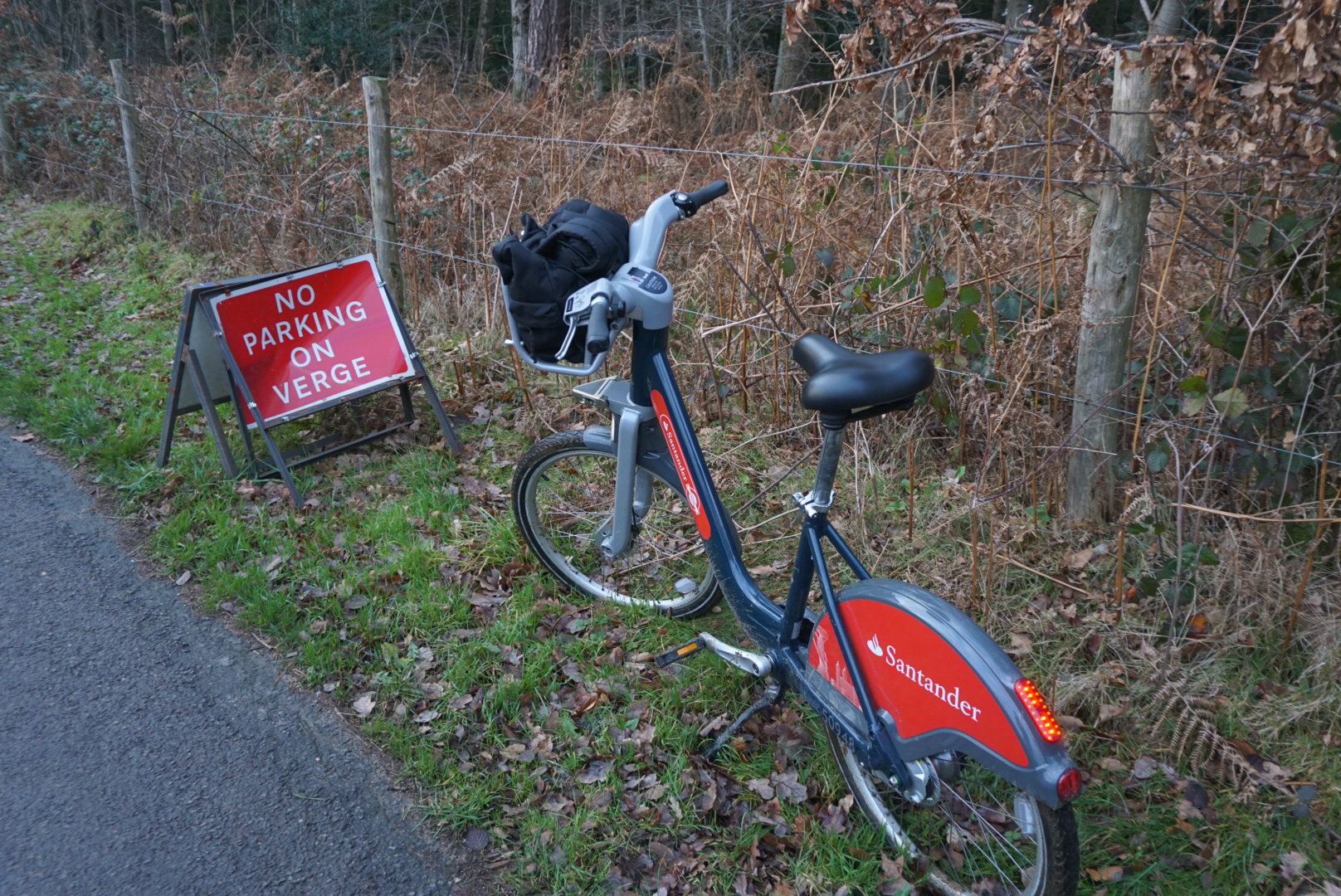 5 miles later we came to Devils Dyke – the nastiest ascent of the whole ride – in total darkness – on a 3 gear bike – that weighs 23 Kilograms. This was also the moment when Sergio's cramp chose to escalate and his entire left leg seized up…
Propping the bikes on their kick stands, I flicked on my head torch and knelt down to start rubbing some life into Sergio's thigh just as a car came around the corner, it's headlights falling on two sweating, panting men on the grass verge of the road with Boris bikes, one enthusiastically rubbing the others inside leg.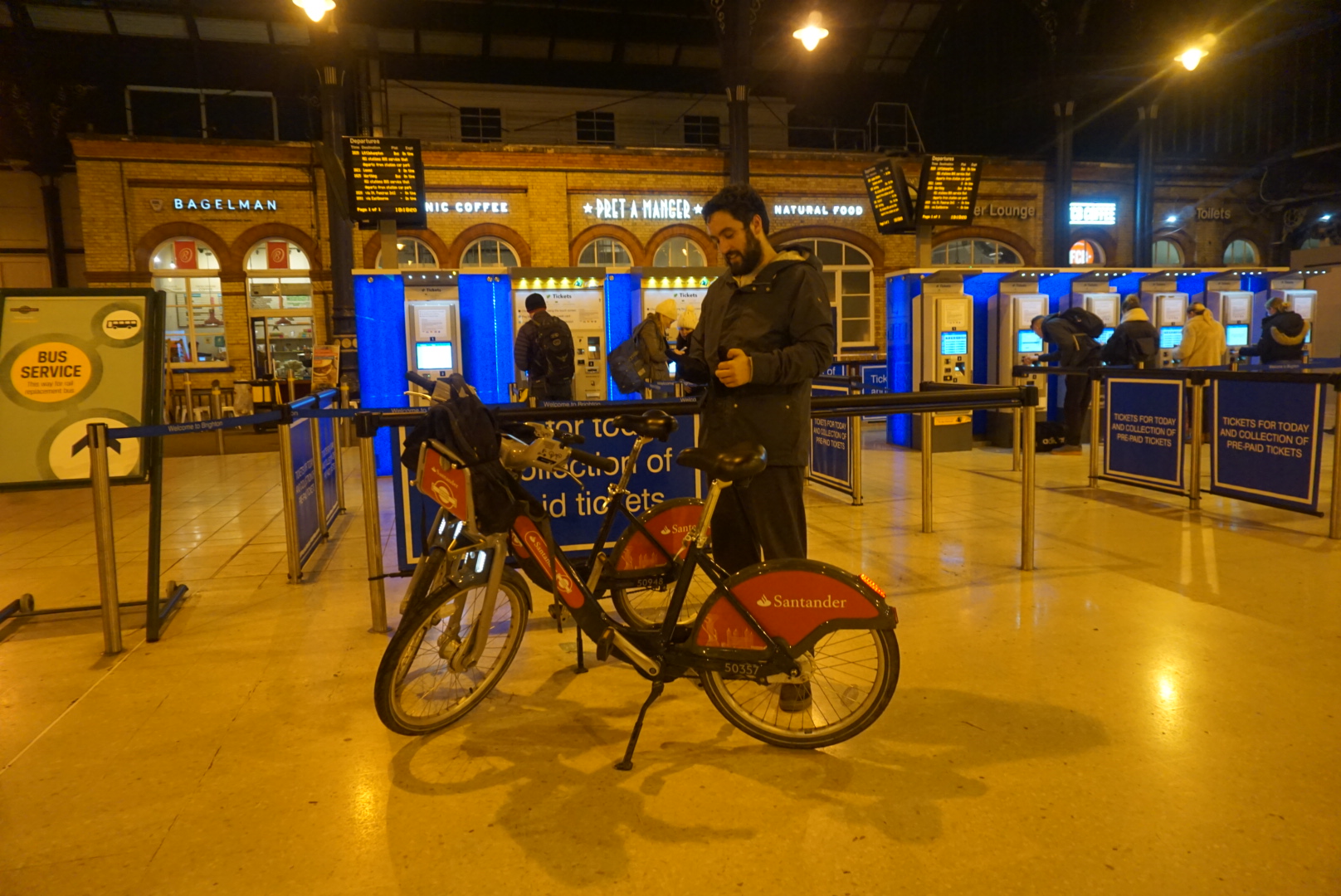 From the top of Devils Dyke, it's a beautiful descent pretty much the whole way into Brighton – where we didn't even stop to see the sites – we rolled into the station, stepped onto a train ten minutes later and docked the bikes back in London as soon as possible.
According to the figures from the App, the whole trip took 10 hours, 12 minutes – it cost us £40 each in bike hire and we travelled a total distance of… 4.5km!!!!!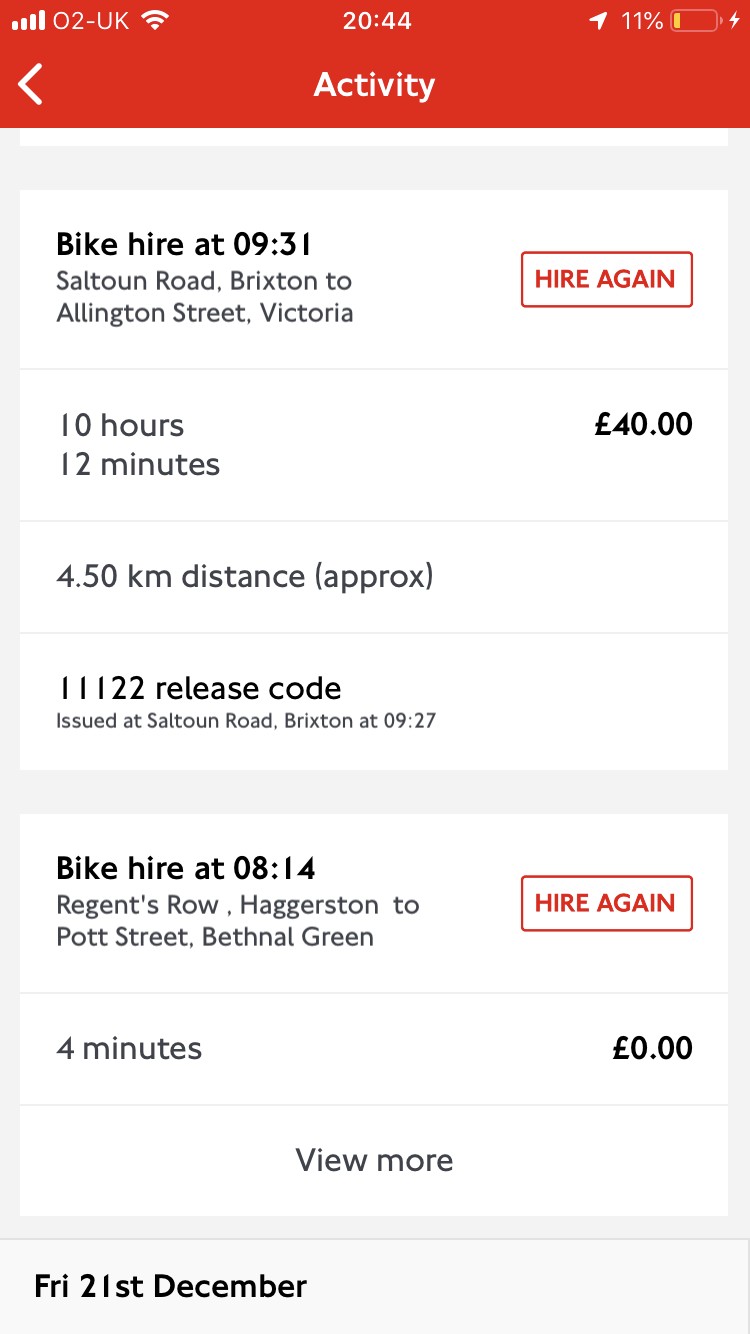 Which proves that Boris Johnson is a liar #Brexit.