'Clearly my mistake was not setting my mum a challenge and then receiving one through the post anyway' – Robin Varley, 2018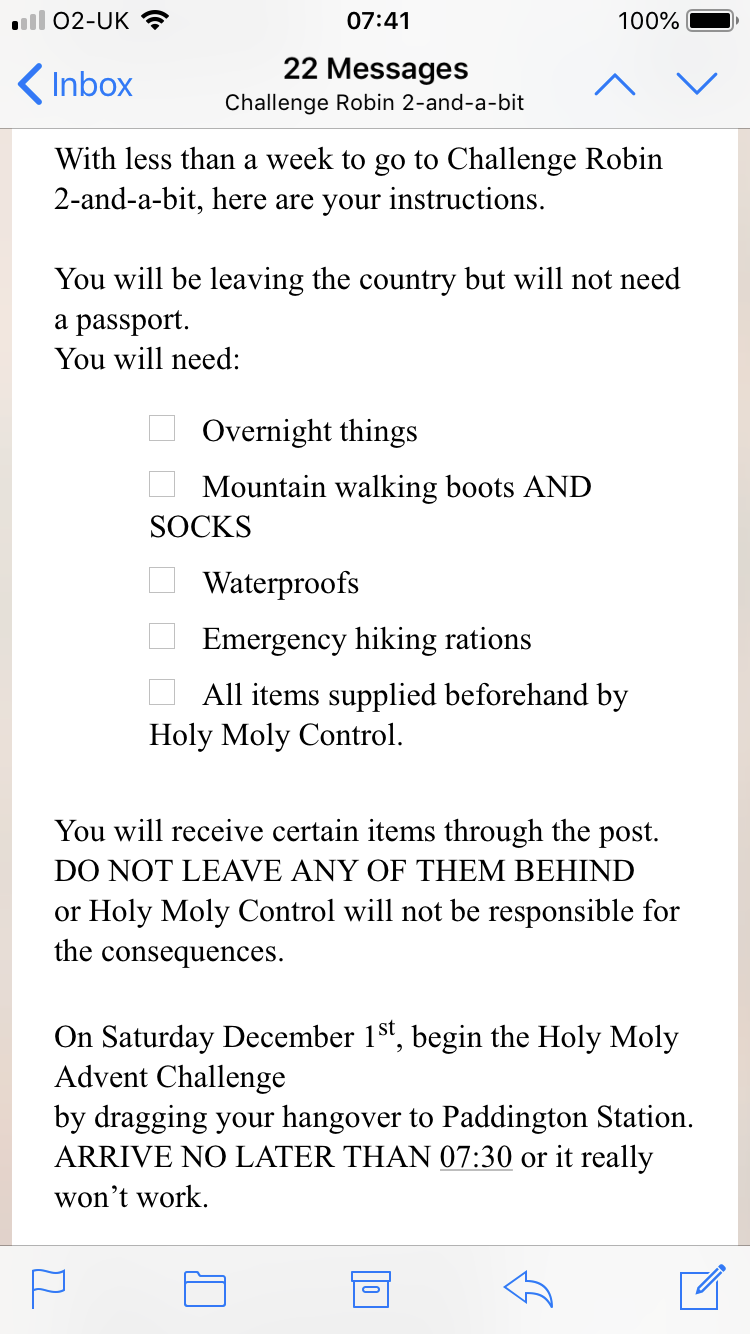 Inspired by the work of my sisters family a few weeks ago, I received this email from our very own 'Sister Mum' last week.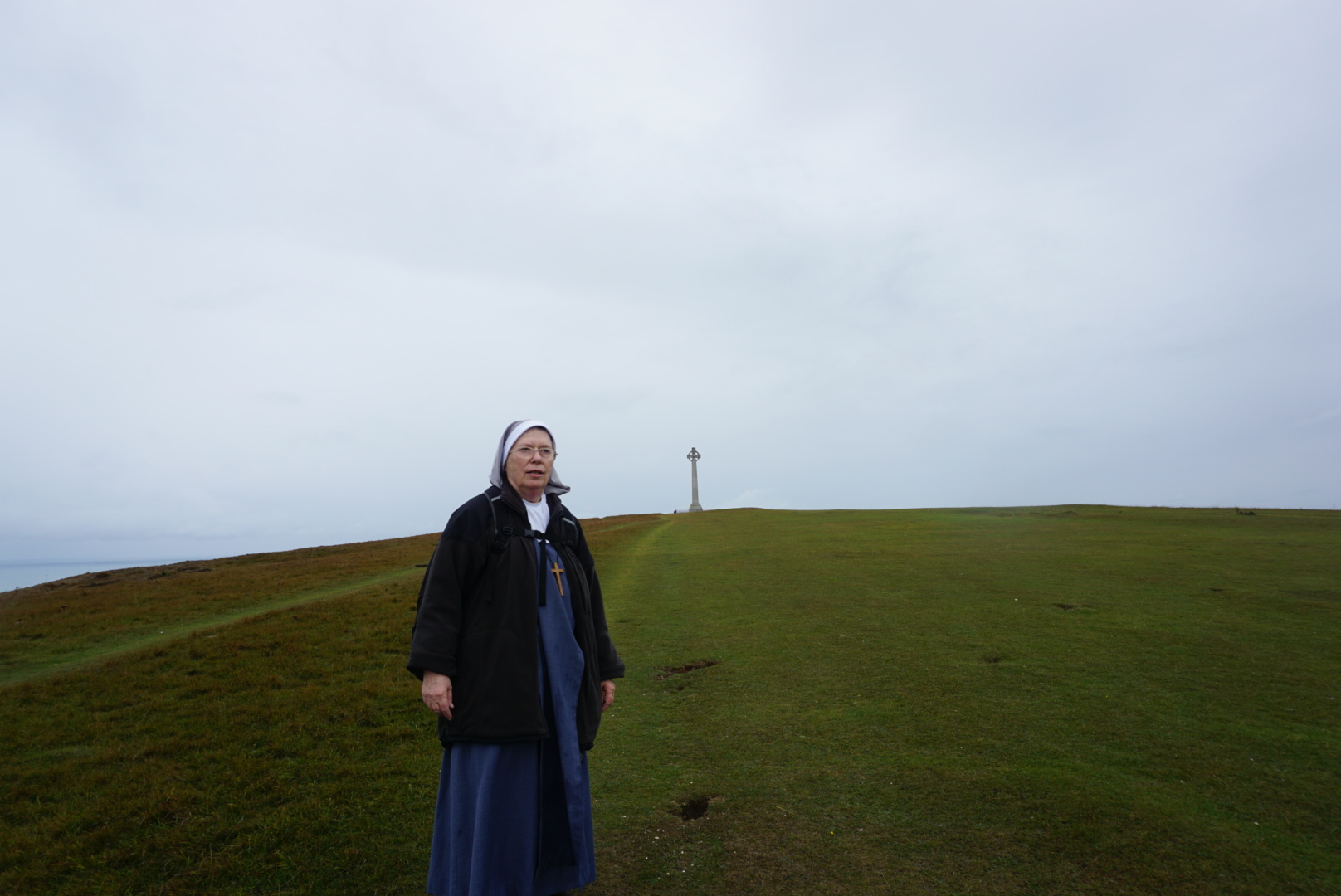 Bless her little cotton habit, she had gone to a lot of effort to put together something that was really good fun and despite putting in the email that I was leaving the country, taking a train from paddington and wouldn't need a passport – she continued to deny that I was going to Wales right up until I arrived in… Wales.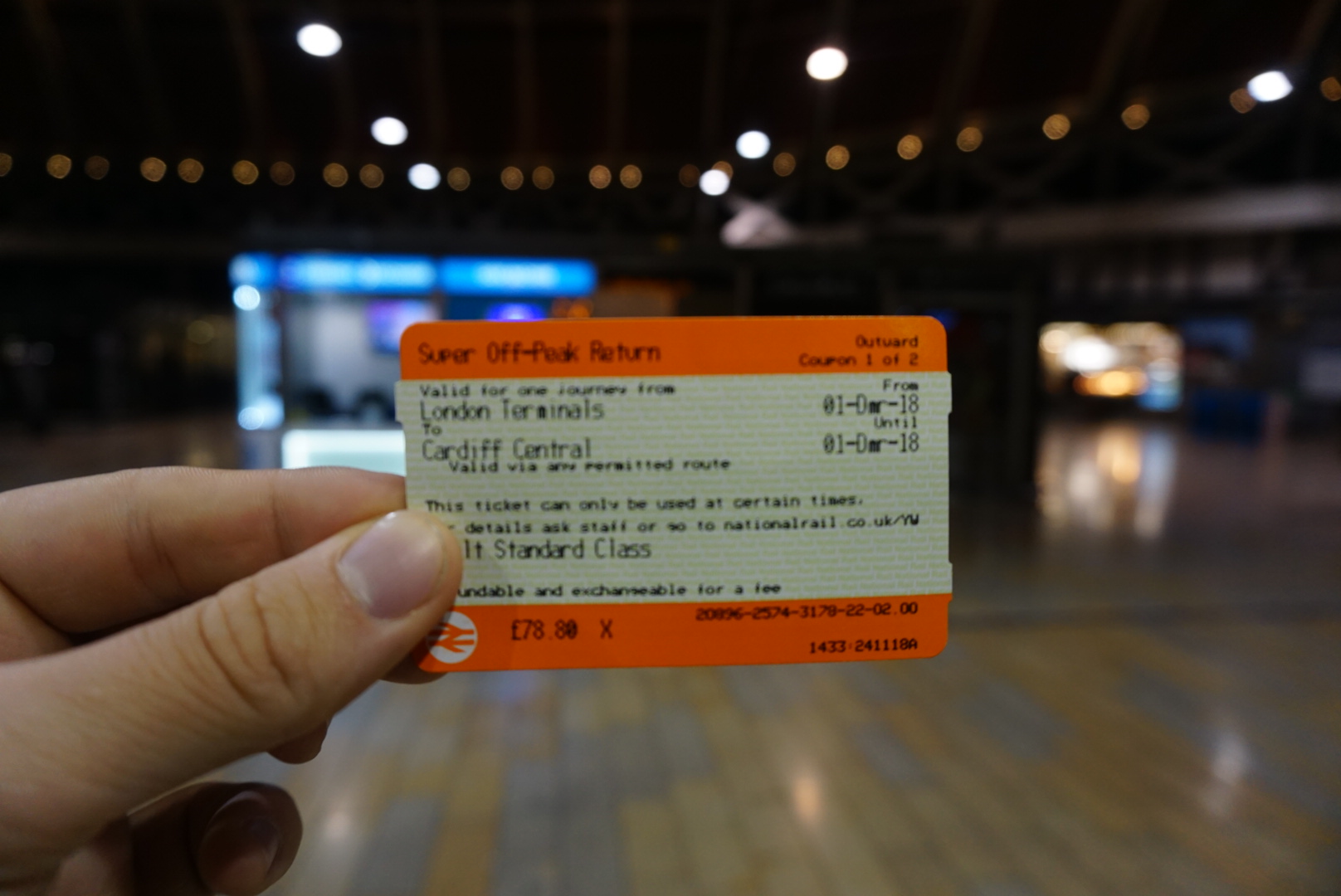 Earlier in the week, I had received a series of letters in the post. One to open at Paddington station – containing my ticket to Wales – and the rest to open as I went along.
After boarding the train, I opened the second envelope and learnt that I was to meet agent 'Cariad' in Cardiff station and say the passcode 'Peacocks should not be kept in the house'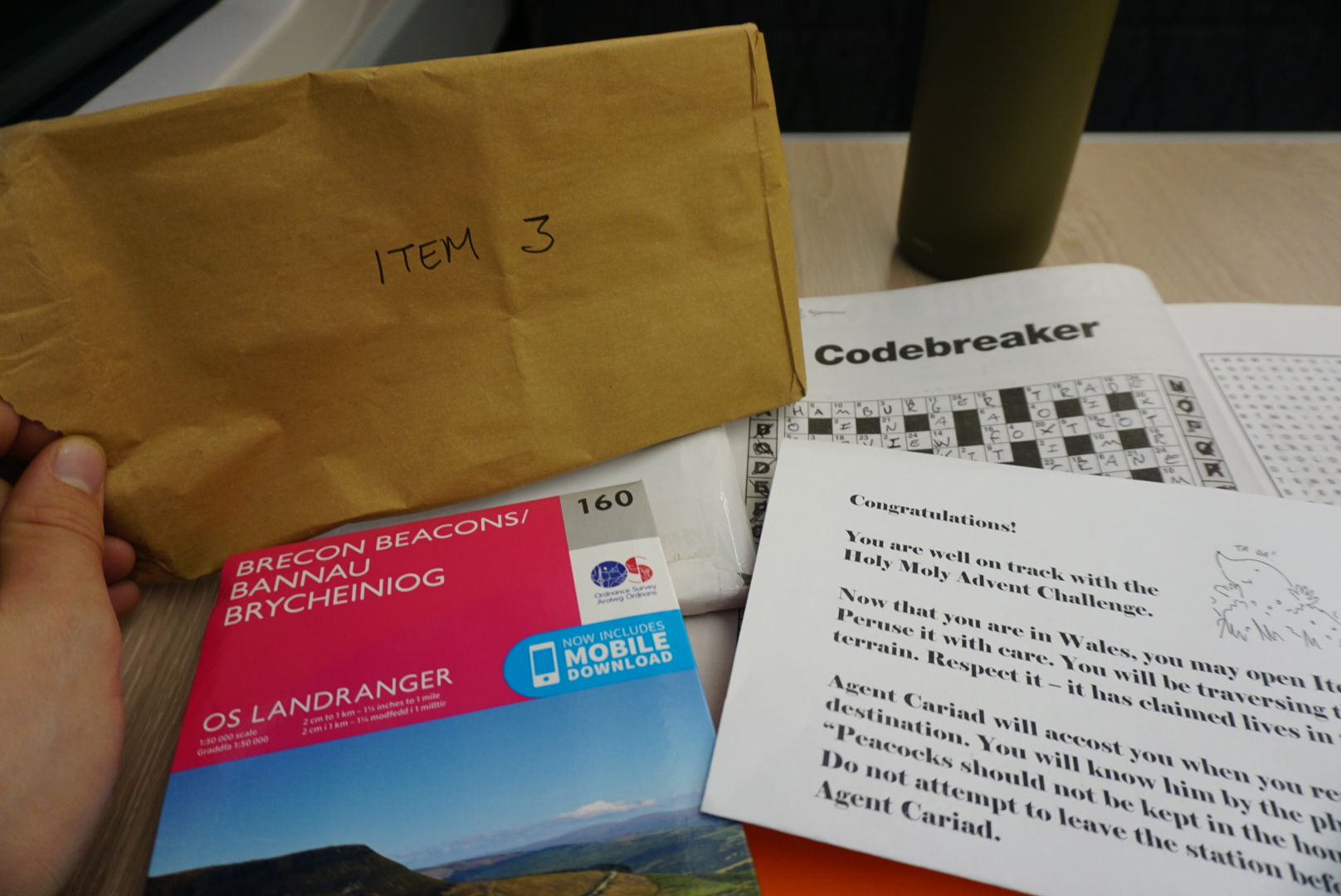 Just before I arrived into Cardiff station, I received this message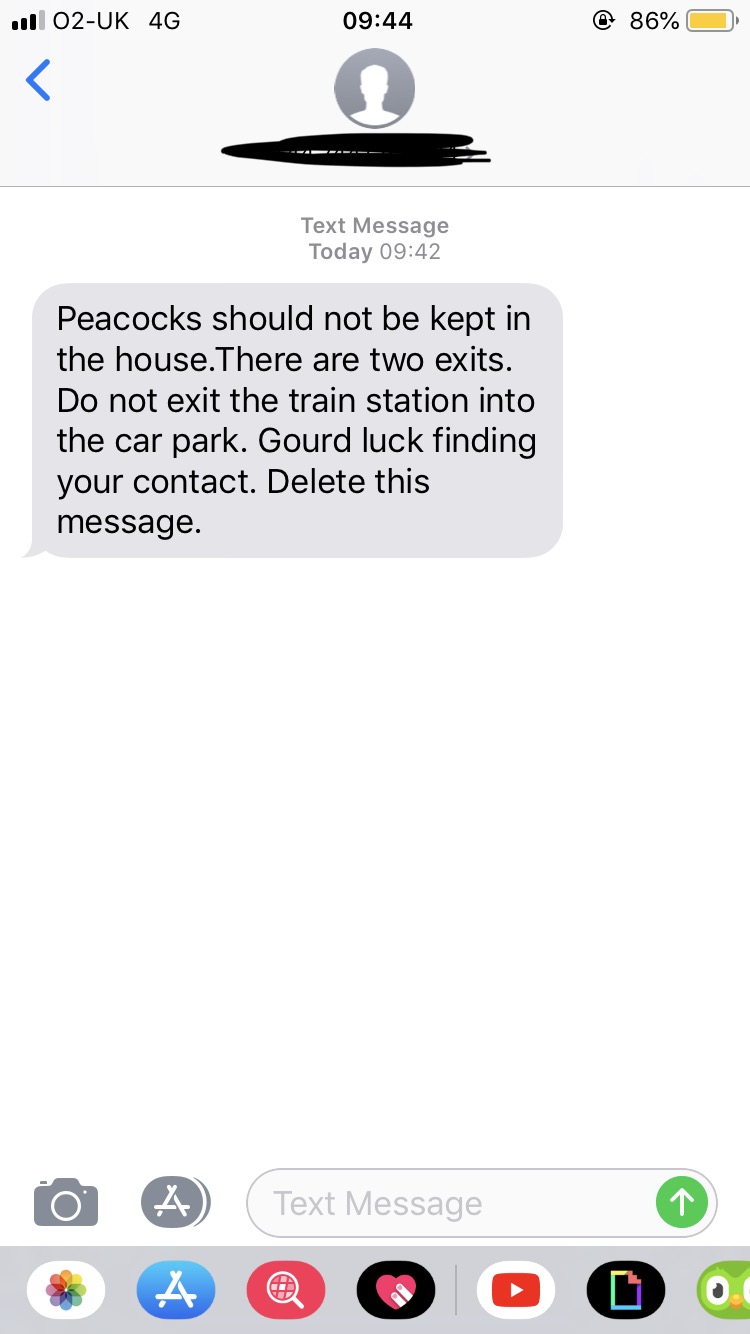 This was a stroke of genius, because I dismissed 'Gourd' as a typo and walked straight past my cousin Rowan who was sat sipping a Latte in 'Pumpkin' cafe… In fairness, he had taken the espionage element pretty seriously and was hard to spot…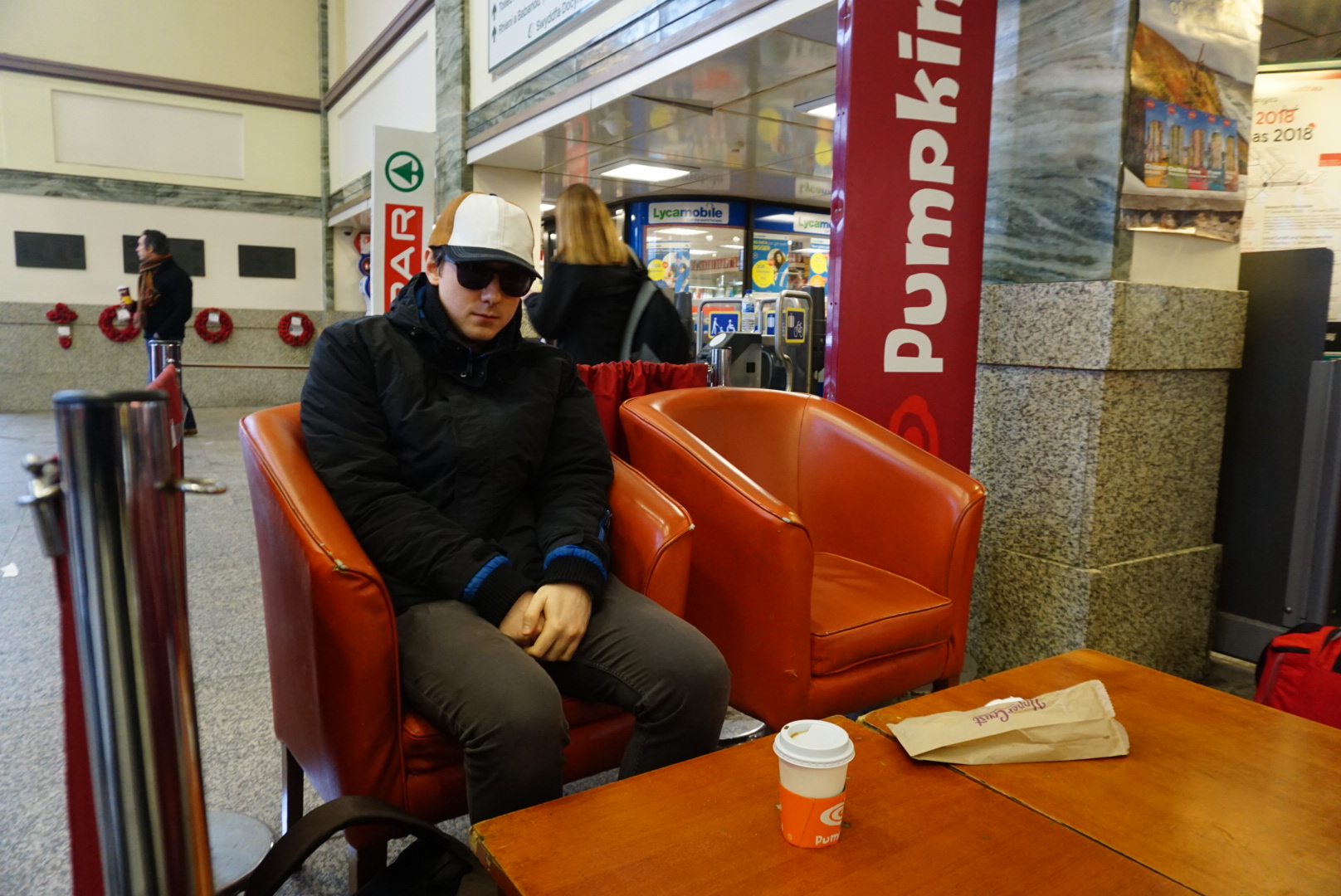 The next task was to jump on a train to Merthyr Tydfill, from here we would walk over the Brecon Beacons to the town of Brecon, where we would be staying that night – there was also a ludicrous puzzle that we had to solve to figure out the name of the place that we were staying.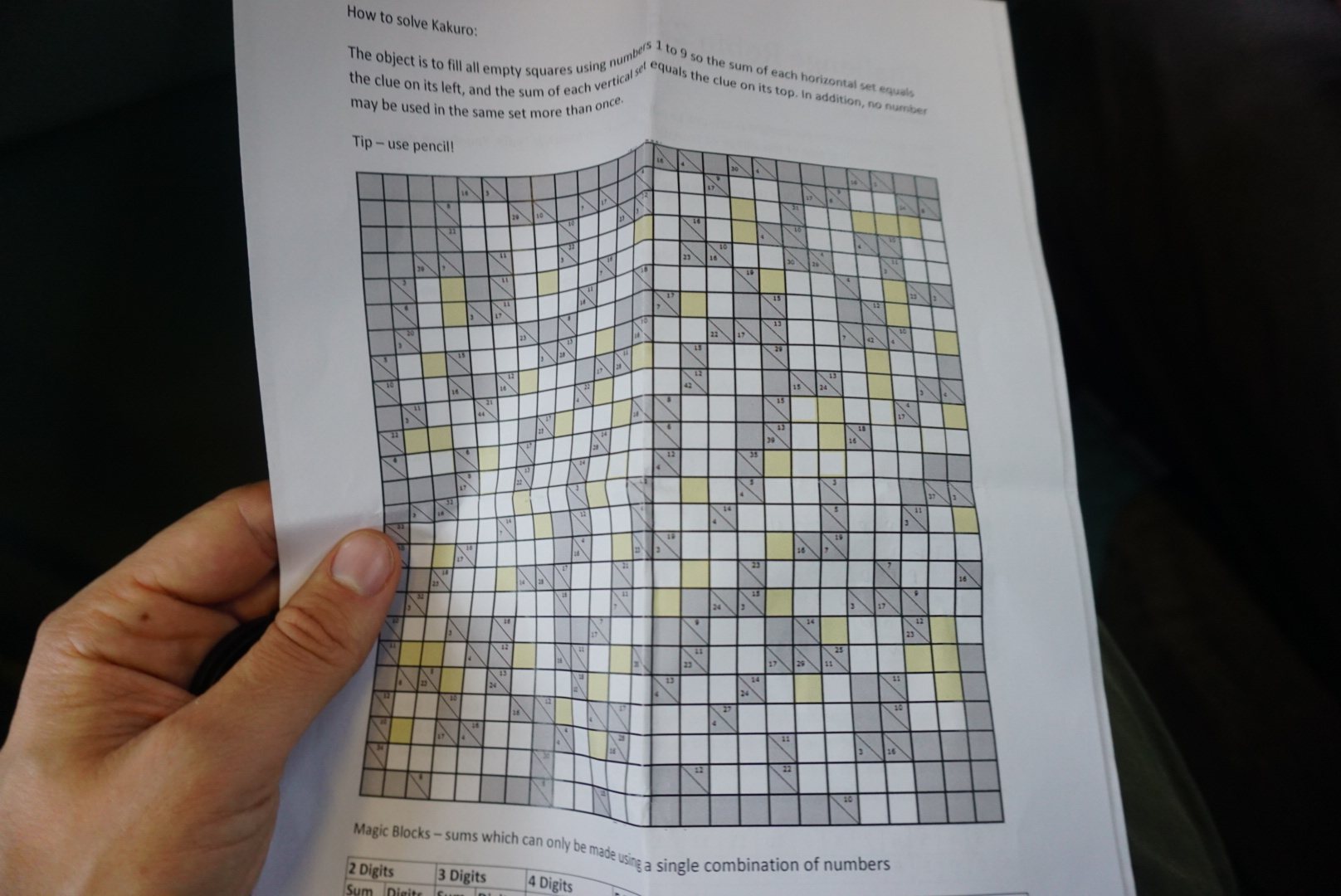 I would love to say that we solved the puzzle, but after an hour we decided that we would get stuck on the Beacons in the dark if we didn't get a move on – luckily one of the envelopes contained a map and we set off on the 15 mile walk from Merthyr to Brecon… In the wrong direction.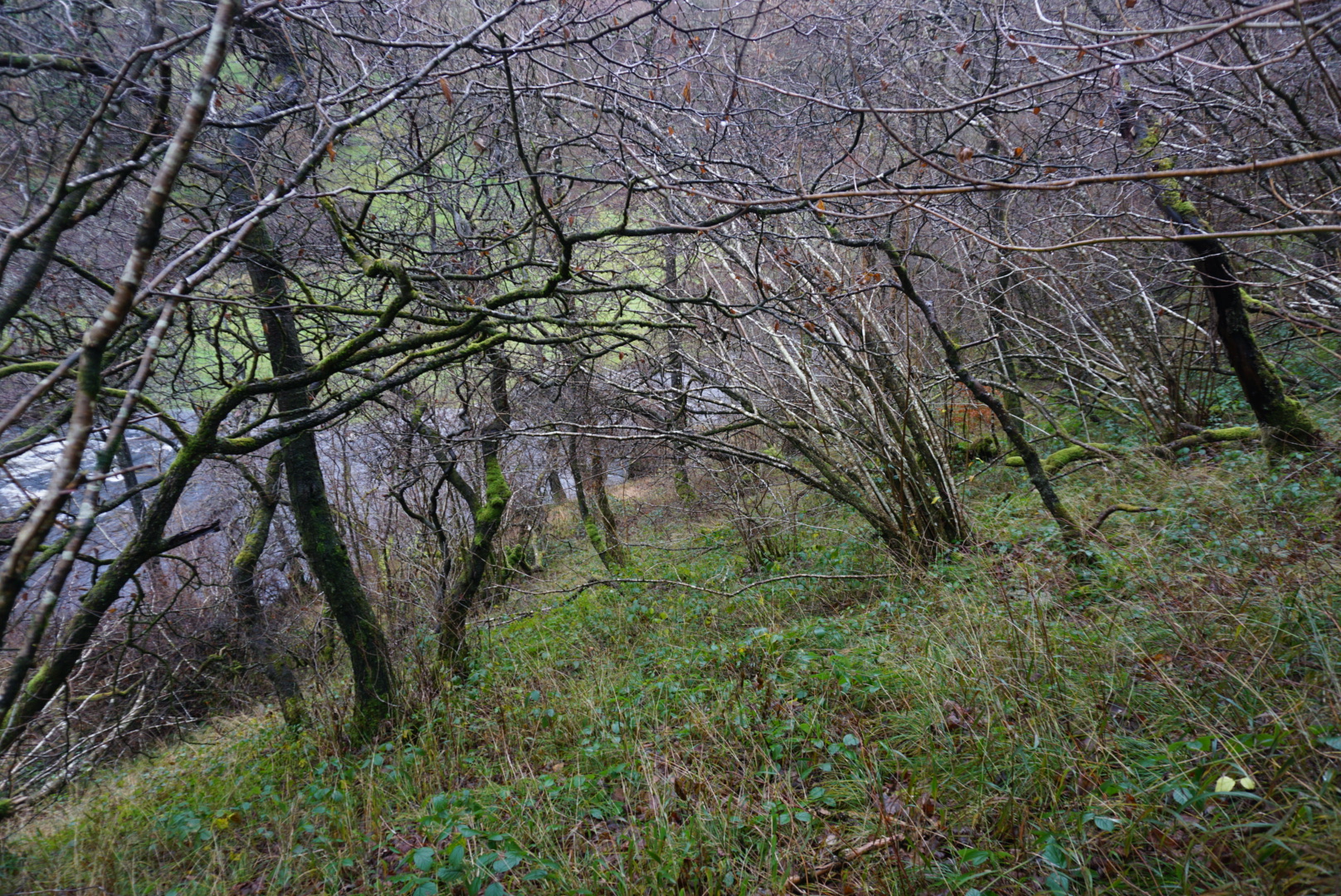 After a scramble through some bushes and discovering a bridge that wasn't on the map, we managed to get back on the right path and only added around 4 miles to the walk!
We opted to have a walking lunch while catching up on life before reaching the Brecon Beacons. A little while later we discovered some amazing derelict industrial buildings and from here it was a short walk up into the misty hills.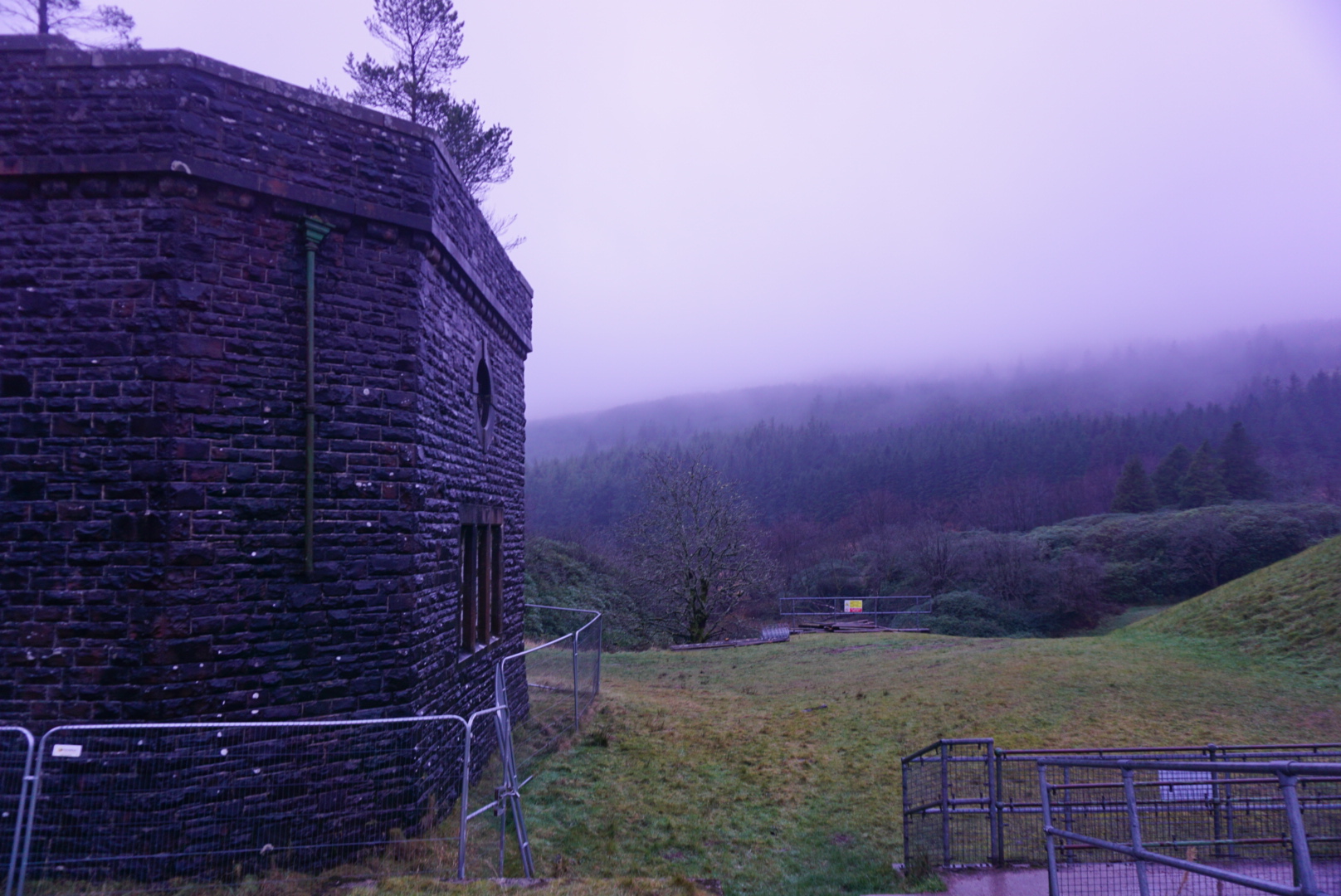 The path led us straight past Pen Y Fan – the highest peak in South Wales – but it was nearly sunset and there was barely any visibility so we had to press on and leave it unclimbed.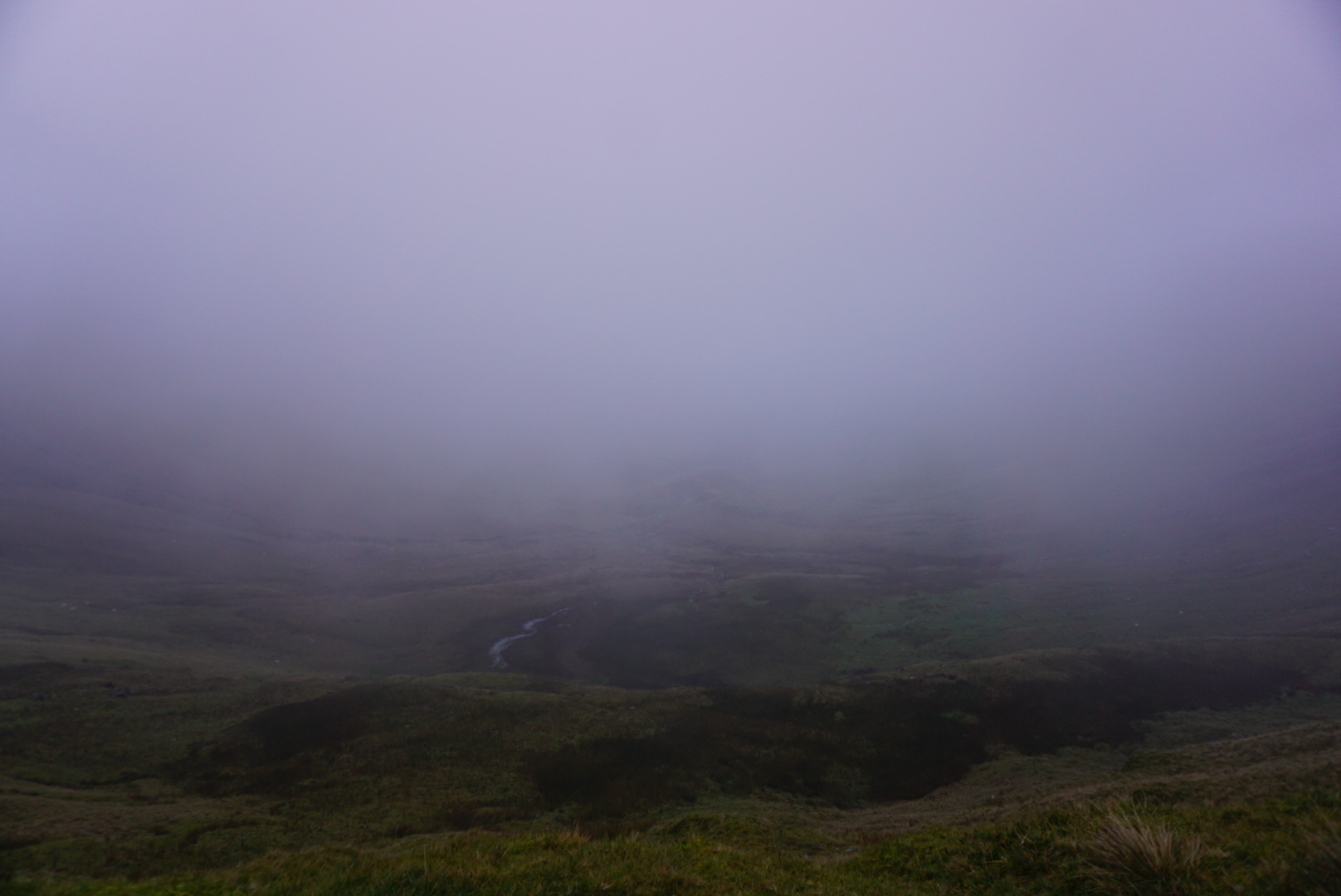 As we stepped off the Beacons and back onto the road for the last couple of miles, the sun set and we walked along quiet country roads in the dark – which was lovely.
We arrived into Brecon at 5.30pm and checked into the Flag and Castle guest house. The owners were well briefed on our arrival and had set a fire going so we could thaw our feet out. In my room I discovered a final letter on my bed that contained a return ticket to London for the next day.
A couple of pints and a meal later, Rowan and I headed back to the guesthouse feeling a bit like the long exposure photo that I tried to take of Brecon as we walked off the Beacons earlier that evening.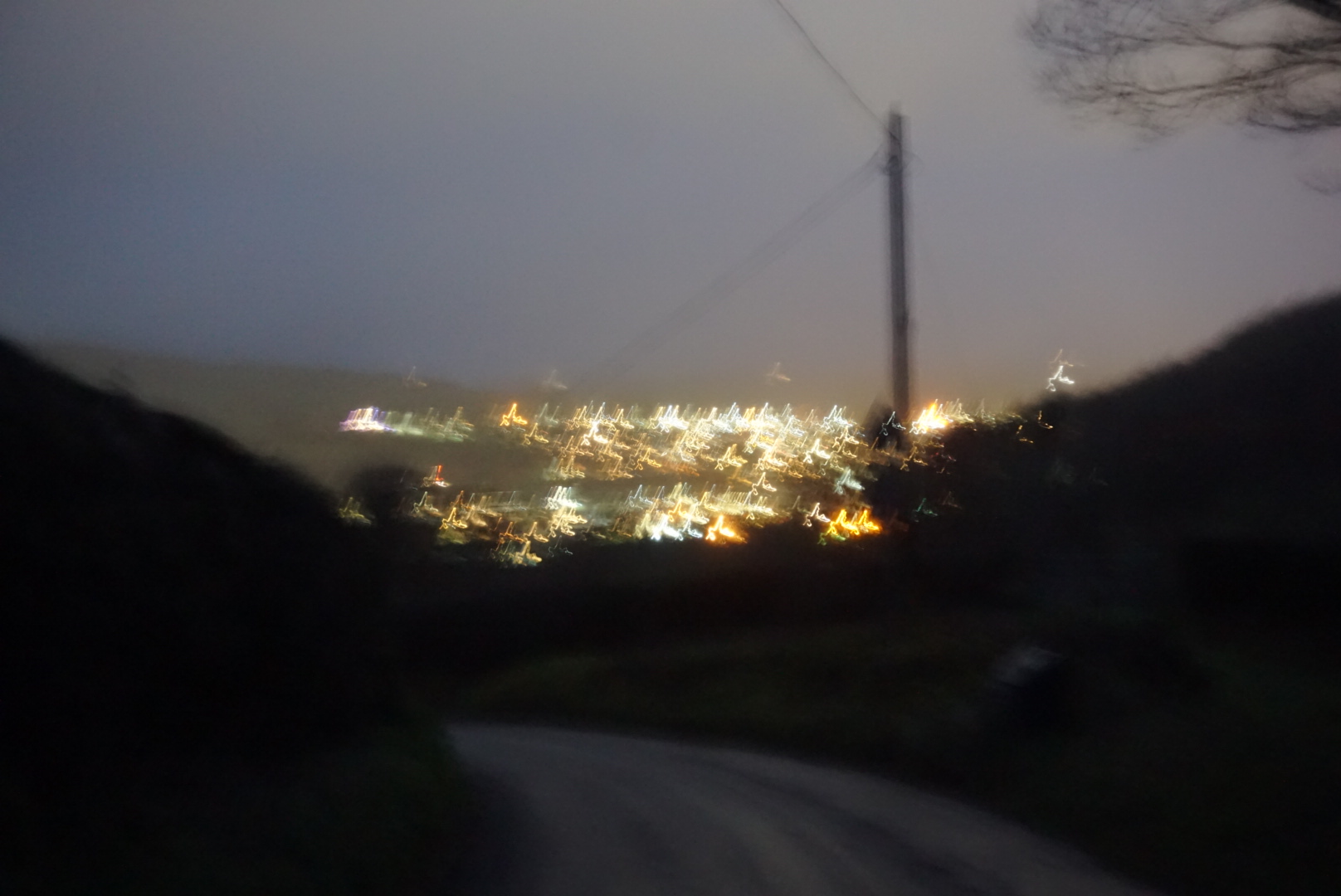 Thanks Sister Mum!!